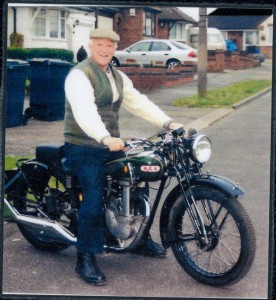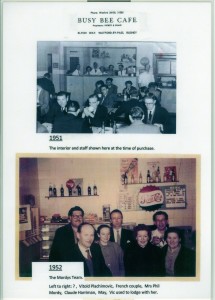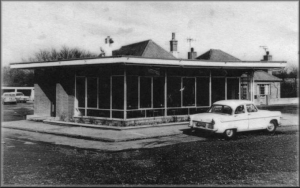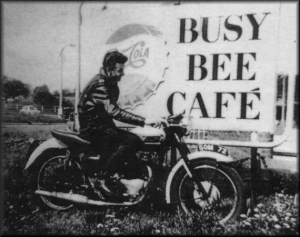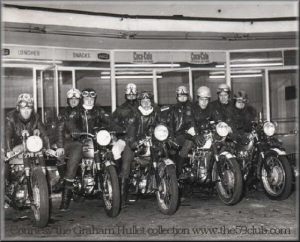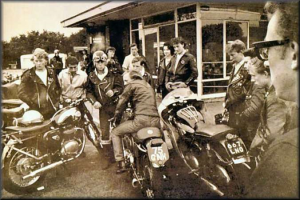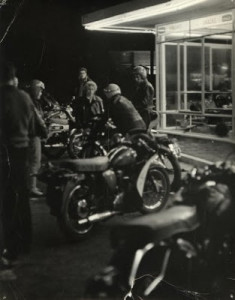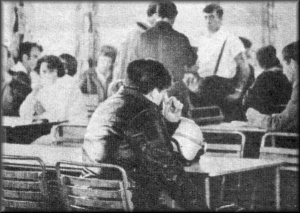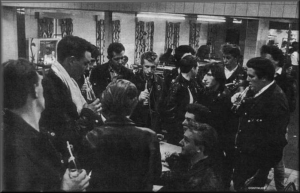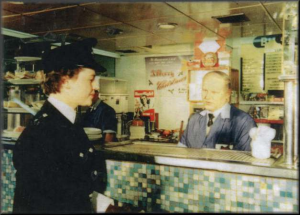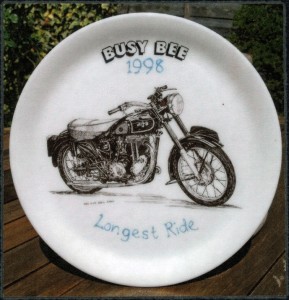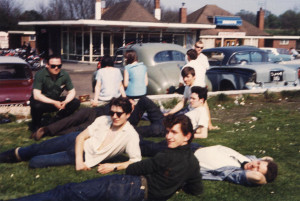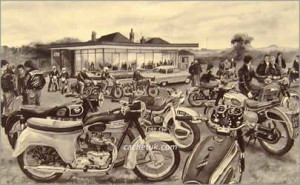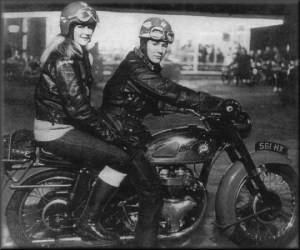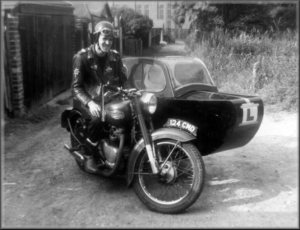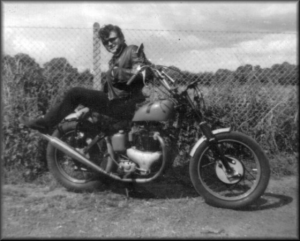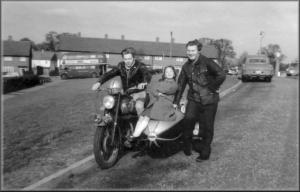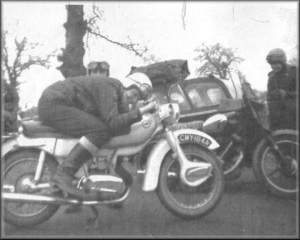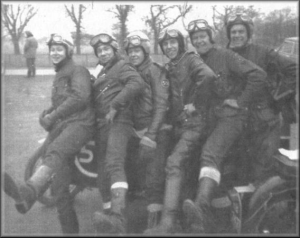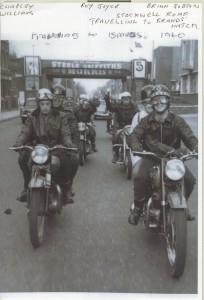 Special thanks to Peter Mayne who had a long working relationship with the Busy Bee through to the Hilton Hotel for writing this section.
Back in 1938 the section of the newly formed Watford bypass was named Elton Way long before Watford's famous son Sir John was even thought about.
My story begins at the junction of Aldenham Road, Hartspring House, and the bypass itself. I know from research that back in the twenties quite close to this junction was a spinney in which stood an old railway carriage from which they served tea and sandwiches to passing cyclists and the odd lorry driver and it was known as "The Busy Bee". During the bypass construction much of the immediate area was excavated for "Hoggin", a natural mixture of red clay and gravel highly sought after for road making and I have to assume that the spinney and cafe disappeared at the time. The area known as "Hartspring" was owned by Henry Winfield, a builders Merchant, and he built his house here which still stands today. Henry applied to build a roadhouse on this junction and successfully built The Red Lion. However, his tenant from the demolished Busy Bee, a Mr. Sheridan, complained that he had been put out of business and so Henry Winfield built a new cafe on the site as we know it.
In 1939 war broke out and food was rationed and under the new rules the cafe was sold to a food producer "Energen Foods". Mr. Sheridan still ran the operation with Energen holding the food licence. This arrangement continued until food restrictions were lifted in 1951 and the business was put up for sale, Mr. Sheridan having retired.
In September 1951 The Busy Bee was in the hands of Mr. Jim Mordy, his wife Phil and business partner John Shave. This new team, full of energy and enthusiasm, soon made a success of things. They built a bungalow on the site next door and very soon planned to extend the cafe to accommodate 40 extra covers. An area to one side contained pinball machines, a very popular entertainment with lorry drivers. The cafe was now open 24 hours a day 7 days a week, indeed the only time they shut was Christmas Day afternoon when Mr and Mrs Mordy cooked a Christmas dinner for their staff. A manager was taken on by the name of Claude Harriman, abley assisted by long time employee Victor Platimorvitch. "Vic The Pole" as he was known. Being open 24 hours it was said that the bed never got cold, as one got up – another got in!
By 1957 another extension was planned to cope with the ever increasing demand. By this time it was not only the lorry drivers using the cafe but the motorcyclists as well. I used to travel to Wembley on Thursday nights for the speedway. In those days they used to race on cinders which was very dusty to say the least! Not being able to get a tea or coffee, unless you wanted one in a cardboard cup, which promptly folded up within three paces of paying for it, we used to call into the Busy Bee on our way home.
About this time Rock and Roll was all the rage and Phil and Jim had a Juke Box installed and for a tanner a go you could get Bill Hayley booming out. As you entered through the front doors, painted a typical fifties "Eue De Nil", down the steps the counter was straight in front of you with it's now famous "Bee Hive" mosaic front. You were always cheerily greeted by perhaps Vic, Claude or even "Big Joe Carpenter". Tea or coffee was a tanner a cup! Now over to the fireplace for a warm up – magic!! After perhaps an hour or so Claude would come over and say "Shall we break the ice on your coffee boys or will you be leaving?" It was his gentle way of slinging you out! One last look around inside before we go, remember the green and cream tiled walls, the tables and chairs bolted to the floor to stop them being thrown about if a fight started! I do remember a few short lived scraps, mainly though, they got finished off outside. Perhaps my old memory is mellowing a bit, but I really only remember the good times like the bike talk, the camaraderie and the admiration when a new bike turned up! Peter Cooper's B.S.A. Gold Star with 6 miles on the clock, she went straight from the dealers to the Bee to be shown off! I remember the first T110 I ever saw and wondered what these chaps did for a living to be able to pay £250 for a bike! The majority of bikes at this time were the ride to work type, the B31, Speed twins, Matchless, AJS and even the Bantams, some with home made mods.
Come 1960 and yet again the Mordys were looking to expand and with the business booming a new extension was placed on the front.. This was to become the more familiar face of the Busy Bee. American style all glass windows, sixties style razzmatazz! A new era in the bikes as well, big twins was the order of the day. T/Birds, Rockets, Nortons and the birth of the Cafe Racer style. The order of the day was meet at the Bee, coffee, and when there was enough of you, a quick blast down to the Ace, more coffee, and back to the Bee, game over! Week ends and Bank holidays, meet at the Bee, wait until there was about 50 bikes then down to Southend in one big crowd. Or of course, it could be Margate or even Brighton or anywhere those pesky little Mods and their scooters could be "mashed". I am glad I was not one of these bikers!
1967 was the beginning of the end for the Bee. Work had already begun on extending the M1 down to Brent Cross and with it was to go all the lorries that would have stopped at the Bee. The bike boys only used the cafe in the evenings and part of the week ends and they were never big spenders. Ask around the lads today what was the food like and the answer will be "I dunno, I could never afford it"! (A mixed grill, tea, bread and butter was under 4 shillings) that's 20p in today's prices.
In 1968 the Bee was closed down to re-open as the Casa Miel 6 weeks later. The bungalow had been changed into a new venture called the Beehive Grill with 350 cover capacity and boasted dinner dance and cabaret three nights a week. Things were really bussing.
I came to work for the Mordy's in 1969 when yet another extension was built, this time in the form of an up market reception area, new bar, link to all units and the formation of the Honeycomb Suite and office block. On the day we finished the job my old friend and mentor Claude Harriman collapsed and died aged 49 years. He had worked for Phil and Jim for 17 years. For a short while I was promoted to General Manager and in 1970 commenced building the Hotel on the adjacent plot and was to remain working on the site until I retired 32 years later.
During my time here I got asked many questions about the old times, mainly from Americans who had been based up at Northwood, and so I collected some photographs and information from local folks. One day a chap who worked for us, Joe Beale, said his wife Sandy, and others were looking to have a reunion for old Bee Bikers and could I help. I provided some photographs and remembered I had put away some of the plates that were used in the 60's bearing the B.B. monogram, Sandy used these as raffle prizes. (Eds-note one made in excess of £50 at a recent fund raising auction)
A couple of years passed and Joe reported that the runs and reunions were getting bigger and a run was planned to Jacks Hill Cafe up the A5. I decided to check them out and was surprised to find a very well organised gathering. I spoke to Rick and offered the site of the old Bee for their next reunion, the 30th year after closing. I even knocked the dust off my old bike and joined in, long may it continue!
QUESTIONS I AM OFTEN ASKED. (BEAR IN MIND I WAS A FIFTYS BIKER!)
1 RECORD RACING
Remember an E.P. record lasted 3 minutes!! You were to start your bike, race down to Aldenham Roundabout and back before the record had stopped, That was the aim, a distance of just over 4 miles on a 1950's bike!! I leave you to decide, what I will say is I never witnessed a successful run! That doesn't say it never happened, 1960's bikes were a different breed.
2 FIGHTS
Sure there were fights, like anywhere else. Usually between lorry drivers fed up with boasting yanks from Northwood. Plus short lived scraps amongst bikers usually over girls.
3 RUSSIAN ROULLETTE
This was a 1960's game played with two motorcyclists riding through the cafe from opposite directions! The plan was the lads would hold the doors open on the new extension and let the bikes pass in the middle, sometimes with girls on the back. This stopped when Vic The Pole threw a mop at one of the bikes, it went through the front wheel and threw them off – it never happened again!
4 WHY THE CONCRETE BEEHIVES AROUND THE FRONT OF THE CAFE
If you notice that the car park slopes towards the cafe, in those days the M1 stopped at Berry Grove (J5). Lorries loaded with sand or ballast stopped at the cafe with red hot brakes. By the time the drivers had eaten a hearty breakfast the brakes had cooled and the lorry had followed them into the cafe. We had one stuck for three days because it was holding the roof up!! Hence the bollards which were in fact 9″ x 9″ iron girders sunk 6 feet into the ground, three feet out, surrounded with concrete.
5 WASN'T THERE ANOTHER CAFE IN THE AREA
Yes, just up the road on the other side called "Wally's", mainly a transport cafe but a few bikers used it ( after being banned from the Bee) but it wasn't a threat.
6 WHAT ABOUT THE COPPER ON THE SPEED TWIN
Ah – that was PC Mc ——- ( better be careful)! The Terror of the Hempstead Road, or anywhere else in Watford! He would spot anyone who made excessive noise, who he thought was speeding, or if your bike was dirty. One day we were riding down the bypass, no traffic about, dry, daylight, just approaching Sandy Lane and out pops PC Mc—– and waved us down. " Where have you come from"? "Pinks of Harrow" we said. "I know that" he said " I heard you start up" In less than fifteen minutes he knew everything about us, height, weight, collar size, shoe size, blood group, date of birth, tax, insurance, drivers licence, brakes, lights, and "Why did I have a Guinness label for a tax disk?" I got a slap around the ear with his gauntlets for my trouble and told to get her taxed right away!
On another occasion whilst returning from a day in Southend I ran out of petrol and was pushing home. I lived in Luton then, 25 miles away. I was coming down the bypass and PC Mc—- pulled up on a Noddy bike, same 15 minute routine as before, but on finding out I was skint and pushing to Luton, he asked for my drivers licence. He promptly pulled out a ten bob note from his pocket and said when I returned his ten bob he would send me my licence back! So you see – firm but fair. Thanks PC Mc—-!
AND FINALLY – WHAT HAPPENED TO MR AND MRS MORDY
After 27 years at The Beehive Phil and Jim sold to Ladbrokes Group for 1.4 million pounds in 1978 and retired to Spain, In recent years they bought an apartment in Bournemouth to be near their daughter and grandchildren who live close by. Sadly Jim died in the late 90's but I know for a fact he would have been delighted to know of your reunions.
Peter Mayne.
Final chapter in the Bee History
P.C. MAHONEY.
On Friday the 23rd. February, fourteen Watford Busy Bee Club members, eleven on bikes, meet at the Met Police Club, Bushey. The occasion the funeral of P.C. Tom Mahoney the notorious 1960s speed cop who's "firm but fair" tactics must have worked, for us to be here today to pay our last respects. If you were " nicked" by P.C. Mahoney you obviously deserved it, but often he would check your details, then give you a "dressing down" and you quickly returned to the straight and narrow. The funeral procession was lead by a 1960s police Rover 3500 followed by the hearse, then his son Russell Mahoney on his motorcycle. The limousine was followed by the Busy Bee Club members bikes. Other traffic was controlled by three police motorcycle outriders.
R.I.P.
P.C. MAHONEY.