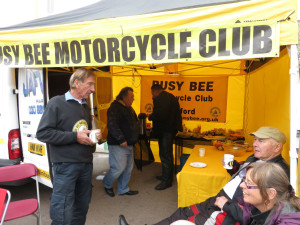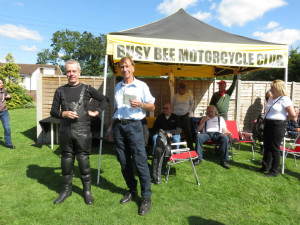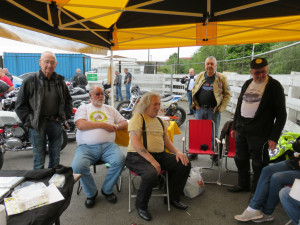 The Busy Bee Motorcycle Club has been in existence since 1994 when the first reunion of the "Coffee bar Cowboys" took place outside a Tile shop in Watford.
Since then the club has grown to a membership of over 100 and meet every Thursday night at "Aldenham Social club" in Watford. Our riding season kicks-off with the 'Pioneer Run' in March and ends  in December with  the last run to 'Mayhew Animal Home or the Xmas Toy Run'. All the club runs are published well in advance on our website under 'Calendar'.  The runs are to various places from classic bike & car meets, museums, charity events and other places of interest.
The club is composed in membership from some of the original "Cowboys" of the "Busy Bee" back in the 50's and 60's to younger members who have a passion for that era or just like to ride and socialise with like minded people. We may not have the original building like the Iconic 'Ace café' but we do have the motorcycles and people from the era and we are very fortunate to have our new spiritual home at Aldenham Social Club with its cosy but spacious surroundings. 
The mix of Motorcycles is vast with Classic Brit, European, Japanese and American plus other modern offerings also, on a nice Thursday evening the car park normally has a selection of Goldie's, Triton's, Triumph's, Norton's, Laverda's and other exotica.  
We also have our Busy Bee Club Reunion held first week in September on the site of the old 'Busy Bee Cafe' now the Hilton Hotel, Watford. Trophies are awarded to best bike in various categories. 
Members receive a full colour magazine every year with various stories of interest. The club is very friendly and at the core of it is a dedicated committee working hard to make the club special so that  you want to be a part of. Why not come along to our regular club nights held every Thursdays. To join the club go to 'contact us' page and download the application form or email us for more information.